Projects
Chelsea double storey extension
Conversion of a little used balcony into a small breakfast area to be connected with the kitchen area at the back of the house.
The exsting conservatory-style ground floor extension was removed and replaced with slim sliding glass doors to match with the new glazing of the kitchen floor above. A fully glazed sylight further increases daylight levels.
Other works included new oak timber flooring throughout the ground floor, a new Poggenpohl kitchen as well as new flooring to downstairs study and decoration works in the stairwell.

The project was completed in late 2016
The Hazlemere house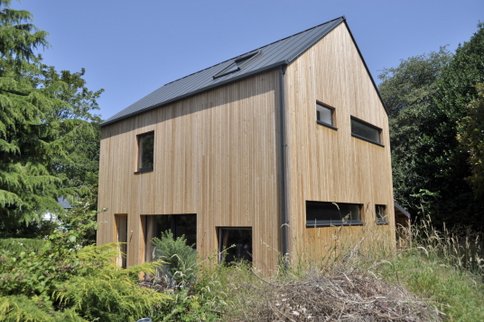 The brief is to build a low energy timber frame house with a tight budget to serve as accommodation for a family of three.
The initial aim of achieving the Passive house criteria had to be scaled back to the 'PHI Low Energy Building Standard' due to various factors, mainly the heavily shaded plot, unfavourable envelope/treated floor ratio and large amount of glazing the client was keen of implementing due to the beautiful woodland around the house.
The structure itself will have low embodied energy by using an I-stud timber frame structure and cellulose infill insulation. The house will be build with a suspended floor on micropiles reducing its impact on the ground to the absolute minimum.
Initial design and planning by Bere Architects.

The house is currently under construction.
The Hove house
The brief was to build a large Passive House in timber frame construction for a family of four including renewable energy sources (PV, solar hot thermal and wood burning stove combined with large heat storage).
Denhof Design worked for the main contractor (www.nakedhouse.co.uk) and closely coordinated works with Jim Miller Architects and the client.
The aim was to insure the building initially designed by a non-passive house architect would achieve the Passive House standard.
The energy concept includes MVHR, PV panels, solar hot thermal, wood burning stove plus a large thermal heat store designed by Philip Proffit (nakedhouse).
The structure itself will have low embodied energy by using a solid timber frame structure with mineral wool infill insulation. The concrete slab of the house is build onto Isoquick insulation wrapping around the footing.

The project was completed in late 2017.
Fulham timber frame house
The new built four-storey house off Fulham Street replacing a 1950's house was constructed in timber frame method with hemp infill insulation and internal steel bracing in bewteen the existing houses.
A large basement was added including light well and stairs to the rear garden.
Code for Sustainable Homes Code 4 was achieved for the house.
The house was built for a private developer.
Project Architect for Powell Tuck Associates.
The project was completed in 2014.
Notting Hill house
Full refurbishment including new extensions to the rear garden on two levels and a new basement to a much neglected large Victorian House in Notting Hill for a private client.
The works to the five storey building comprised external works and a complete remodelling of front and rear garden.
The works beautifylly combine new elements to the old building.
Ecohomes assessment 'good' was achieved as a planning condition.
Project Architect for Powell Tuck Associates.

The project was completed in 2014
Flat in Belgravia
The brief was to completely reconfigure an existing flat witihin a block of flats in the Belgravia area. Works included the creation of three bedrooms, a large living/dining area with a separate kitchen and a maximum of built-in storage throughout. The use of modern finishes in preferred white colour was paramount. Particular attention was paid to providing display and lighting for the client's art collection.
Project architect for Powell Tuck Associates.

The project was completed in 2014